Return to Recipes
All-Season Tomato Galette
Category:
heather johnston
low salt
Oven-Roasted Heirloom Tomatoes
vegetarian
This All Season Tomato Galette by Heather Johnston can be an every-season recipe that is easy to make, great for entertaining, or just getting love from your family. The flavor of Oven-Roasted Heirloom Tomatoes brings a deep richness to this tart.
NOTES:
Dough can be made 2 days ahead of time and even frozen. To defrost, put in fridge 24 hours then let soften on the counter.
Serve as an appetizer, light lunch with a salad on the side, or as a brunch item.
You can also sprinkle lemon zest, chopped fresh herbs, or scented oils over the top before serving.
To keep leftovers wrap in plastic and refrigerate for up to 1 week. Bring to room temp and reheat before serving.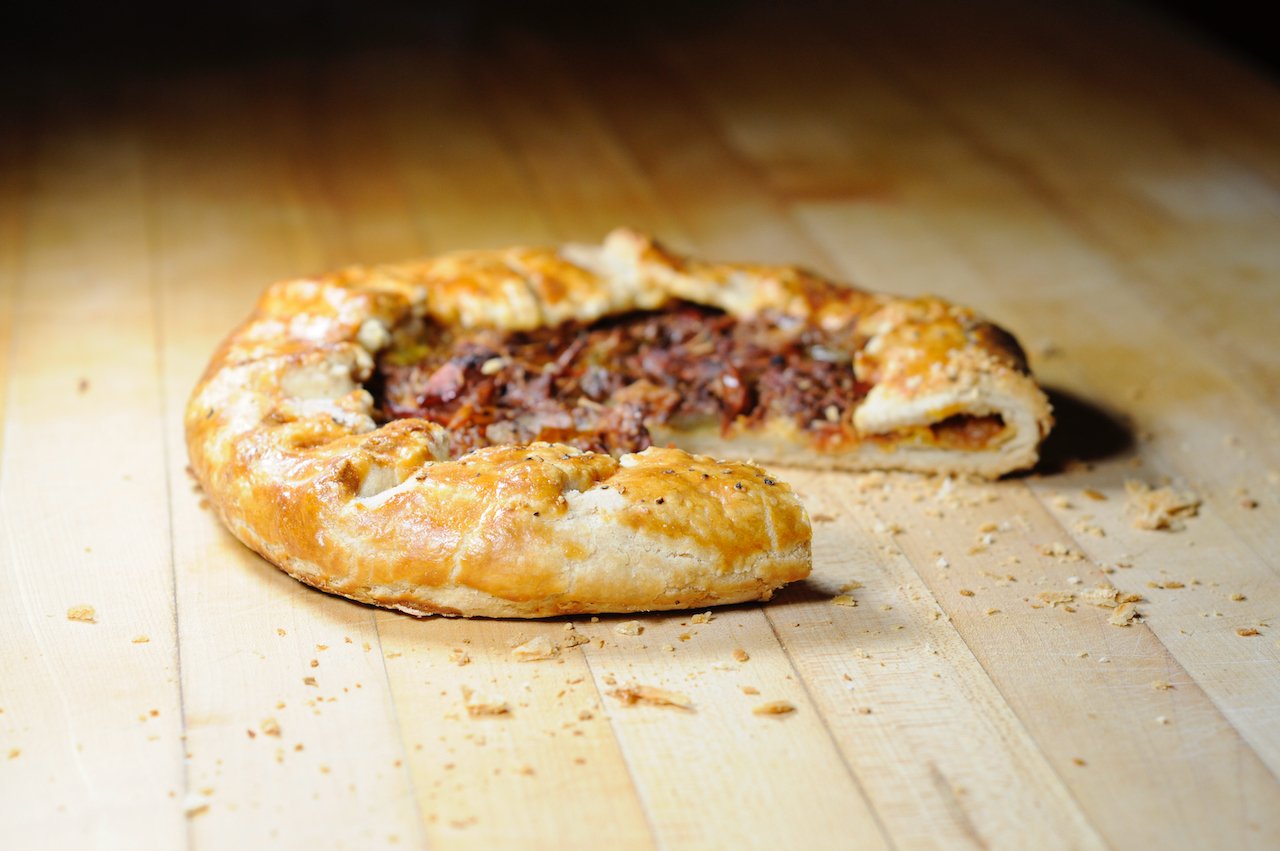 Step 1

Place Roasted Heirloom Tomatoes in a strainer over a bowl. Leave for 30 minutes minimum or up to 4 hours.



Step 2

Place 1.5 cups flour and 1 tsp kosher salt in a food processor to combine. Add butter and pulse until dough is coarse looking.




Step 3

Transfer dough to a large bowl. Add vinegar and ¼ cup ice water. Mix with a fork, adding more ice water by the teaspoon full until the dough is shaggy and comes together. Turn it out onto your work surface and lightly knead until smooth. Pat into a disk shape and wrap in plastic. Chill in fridge at least 2 hours.




Step 4

Pre-heat oven to 400 F. Toss tomatoes with garlic, if using. Set aside strained liquid for salad dressing or bloody marys!

Step 5

Unwrap dough and roll out onto a lightly floured sheet of parchment paper to about 14-16" round. The dough should be ⅛" thick (which is actually quite thin). Transfer parchment with dough round to a baking sheet.

Step 6

Scatter cheese over dough, leaving a 1.5" border (you will fold that over). Arrange tomatoes over cheese. Bring edges of dough up and over the filling, overlapping to create a 1.5" border. Brush dough with egg. Sprinkle tomatoes with salt and pepper to taste (you don't need as much as you think!). Chill in freezer for 10 min.




Step 7

Bake, rotating pan once halfway through until crust is golden brown - about 55-65 min. Let cool slightly on baking sheet and enjoy!



Ingredient list
1

16 oz. jar Oven-Roasted Heirloom Tomatoes

1.5

cups all purpose flour

8

Tbsp. unsalted butter, chilled and cubed - leave in fridge until ready to use

1

Tbsp. cider apple vinegar

4

oz. shredded cheese (Asiago, Parmesan, Cheddar or Gouda)

1

garlic clove, thinly sliced (optional)

sea salt to taste

black pepper to taste