Return to Recipes
Baked Heirloom Tomato Spaghetti
Category:
Love lasagna, don't like the work? Get delicious results in less time, with fewer dishes to do later.  A perfect dish to bring to a potluck.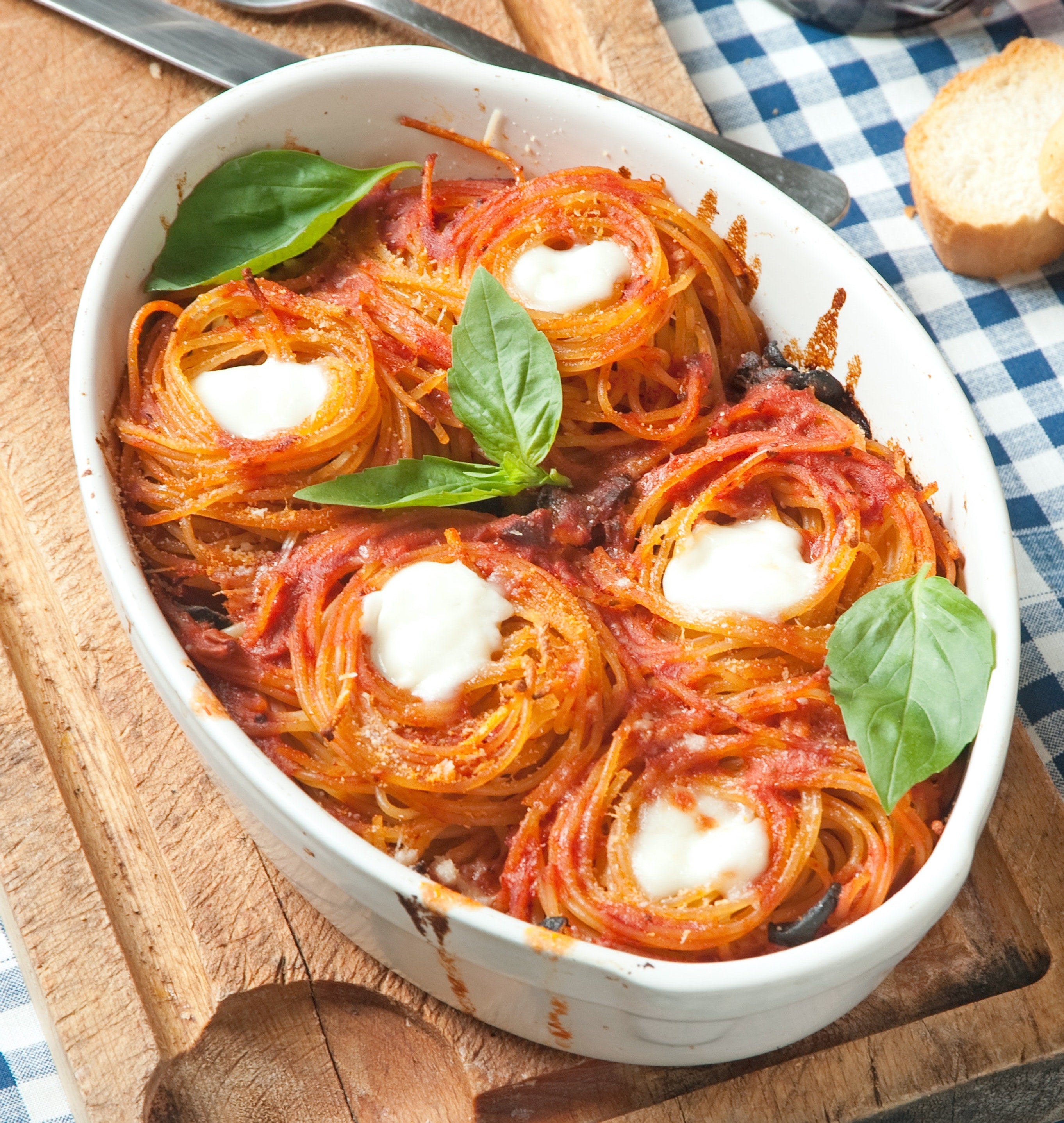 Step 1

Heat oven to 350 degrees and grease a 9 x 13 baking dish with olive oil or butter. Bring a large pot of water to a boil. Add salt and the spaghetti and cook according to the directions, taking it out one minute shy of al dente.

Step 2

While the water comes to a boil, heat a larger heavy-bottomed pot or Dutch oven over medium high heat. Add beef or turkey, dried oregano and red pepper flakes, and cook breaking up the meat with a wooden spoon until browned, about 5 minutes. Turn off the heat and drain excess fat, if necessary, and stir in the soup. Drain the spaghetti, add it to the sauce and toss.

Step 3

In a small bowl combine the ricotta or cottage cheese, 1/2 cup of the Parmesan, egg, basil and 1/4 teaspoon salt. Mix with a fork until smooth and combine the the pasta and beef with the egg mixture and spread into the prepared baking dish.

Step 4

Cover the pan with foil and bake for 40 minutes. Sprinkle remaining 1 cup mozzarella and remaining 1/4 cup parmesan on top, and bake uncovered until mozzarella is melted 5-10 minutes.

Step 5

Cool for 5 minutes and sprinkle chopped basil, a pinch of dried oregano and hot pepper flakes if desired. Slice into large squares and serve.
Ingredient list
2 jars

Tuscan Heirloom Tomato Soup (16 oz each)

1 lb

ground beef or turkey or vegan substitute

1/4 tsp

red pepper flakes

1 cup

ricotta or cottage cheese

handful

finely chopped basil