Return to Recipes
Lobster Risotto with Clarified Heirloom Tomato Broth
Category:
Clarified Tomato Broth
Summer
Elizabeth David says of summer cooking, "As I understand it, summer cooking means the extraction of maximum enjoyment out of the produce which grows in the summer season and is appropriate to it."  She also mentions being able procure a Cornish lobster, or two, along the way. I have been in Maine for two weeks and have procured more than my fair share of the delicious lobsters that are available here. I have also been  fortunate enough to have two friends with the most stylish table settings and a garden full of fresh herbs and vegetables, from which I could extract, as Elizabeth says, the maximum enjoyment of the season.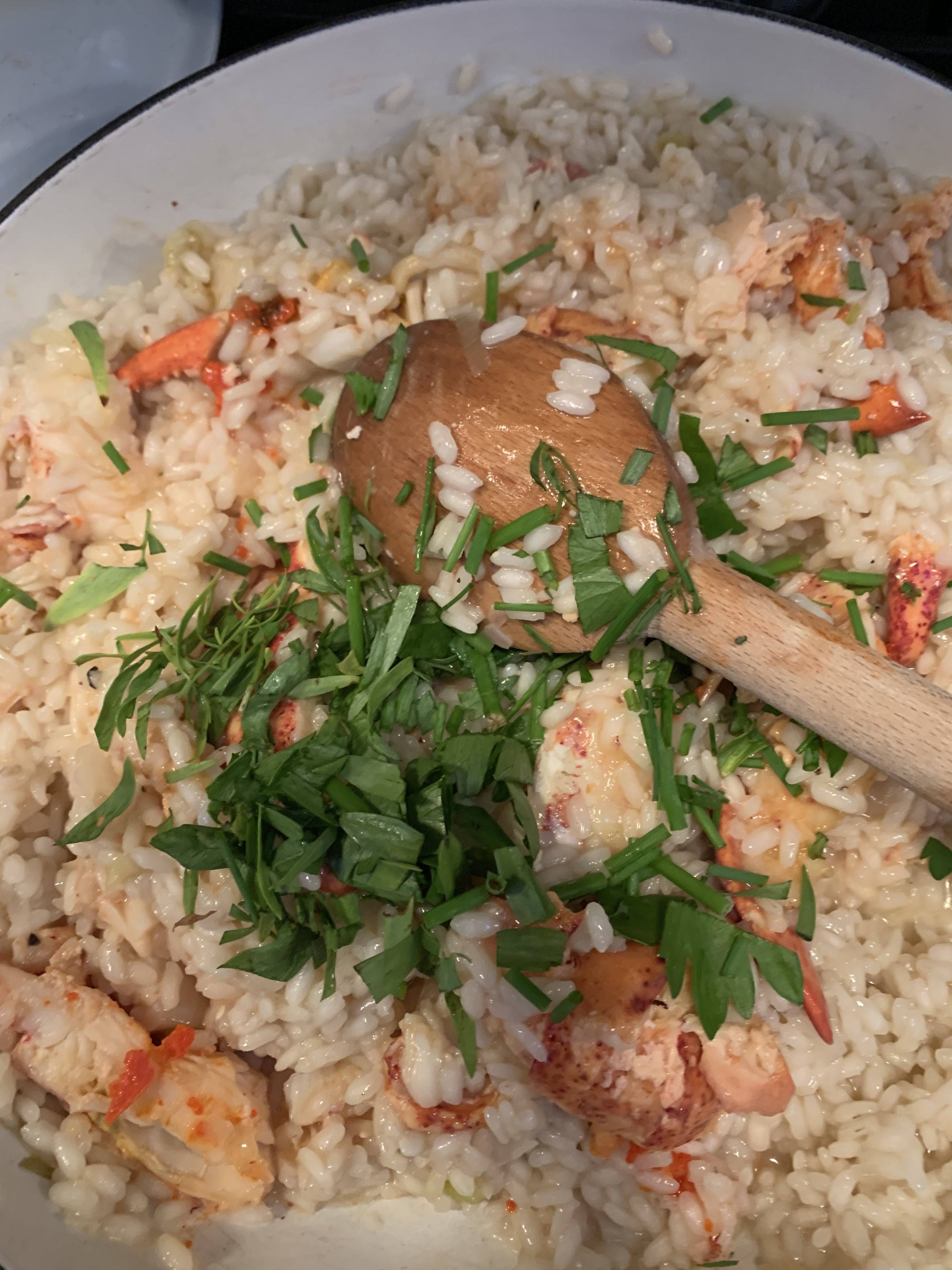 Step 1

Melt the butter and olive oil in the pan, add the chopped onions and garlic scapes and cook until translucent.

Step 2

Combine Tomato Bliss Clarified Tomato Broth and lobster stock in a pan and heat.

Step 3

Add the rice and stir to coat, add the white wine, or white vermouth, and cook until evaporated .

Step 4

Begin to add the warm Clarified Tomato Broth and lobster stock mixture one ladle at a time, stirring continuously, adding more stock as it is absorbed. Test the rice to see if it is done: al dente but not mushy.

Step 5

Add the mascarpone and the lobster meat.

Step 6

Lastly, add the herbs and lemon juice.
Ingredient list
2

16 oz bottles of Tomato Bliss Clarified Tomato Broth

1

16 oz of homemade lobster stock ( if you are so lucky as to have your friend make it for you) or

2

8 oz bottles of Bar Harbor Lobster Stock

1/2

cup white wine (or white vermouth which is herby and lovely)

1/2

of a small onion, chopped

a handful of garlic scapes (if you have them, if not 2 cloves of garlic)

400

grams arborio or carnaroli rice

2

1 1/2 pound lobsters, cooked and picked (again, best done by your friends…)

5

tablespoons of mascarpone

a mixed handful of herbs such as chives, tarragon or parsley, as garnish

juice of 1 lemon

salt & pepper to taste