Return to Recipes
Mediterranean Potato Salad
Category:
This modern mayo-free take on potato salad is packed with fresh flavor from Oven-Roasted Heirloom Tomatoes, briney olives, and an explosion of fresh herbs.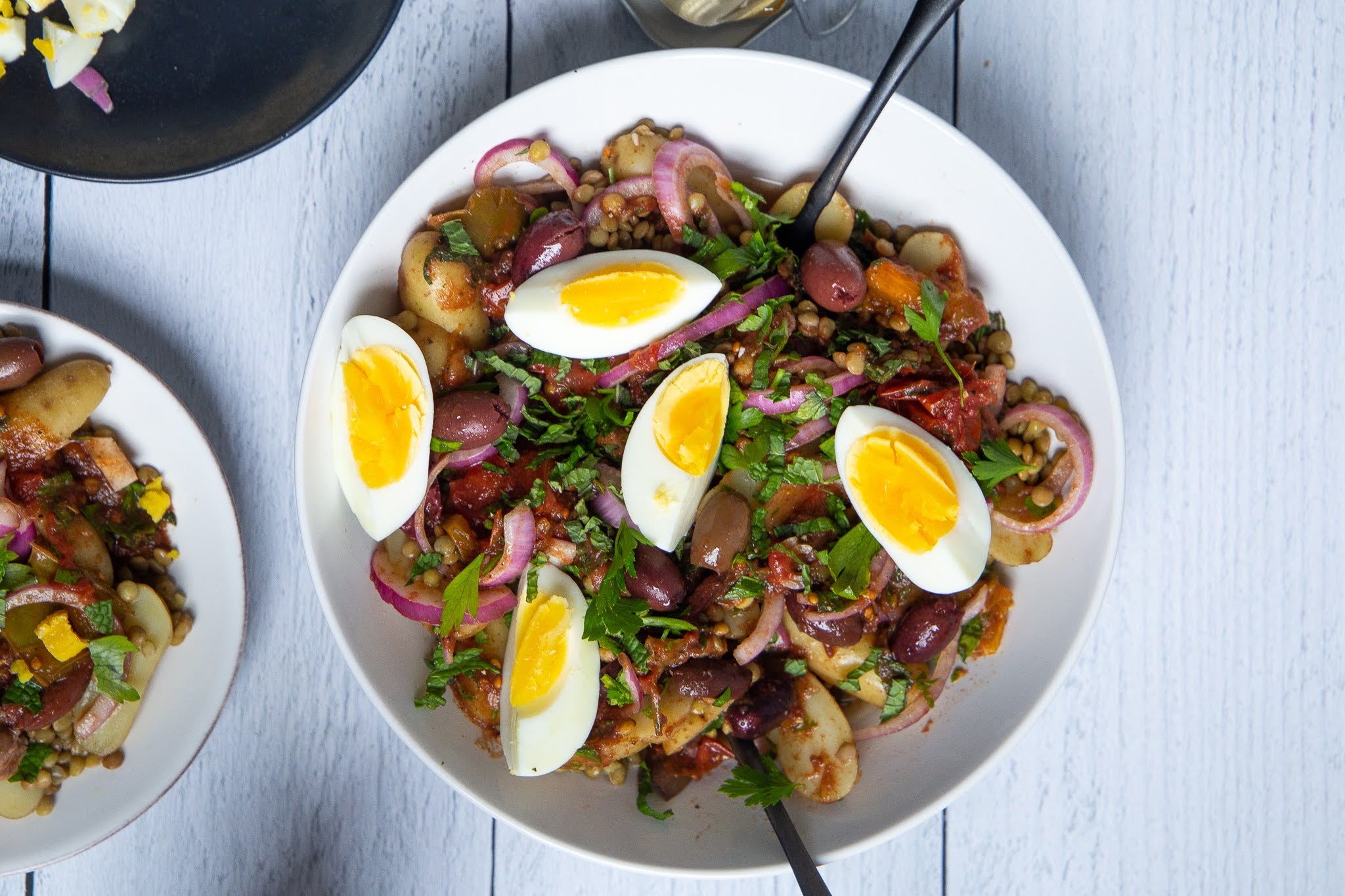 Step 1

Cook the lentils: combine the lentils with the 4 cups water or vegetable broth, salt, and pepper in a medium saucepan. Bring to a boil, then turn heat down and simmer until tender, about 20 minutes. Drain and cool completely.

Step 2

Cook the potatoes: cover potatoes with cold water and bring to a boil over high heat. Cook for 15 minutes, or until easily pierced with a fork. Drain, cut in half, and set aside.

Step 3

Mix Oven-Roasted Heirloom Tomatoes, red onion, celery, mint, parsley, olives, and grated garlic in a serving bowl. Season with salt and pepper to taste.

Step 4

Toss lentils and potatoes with tomato mixture. Top with tuna or sardines, if using, and hard boiled eggs. Garnish with extra herbs.
Ingredient list
1 1/2

cups brown or green lentils

1 1/2

salt and pepper, to taste

1/2

16 oz jar of Oven-Roasted Heirloom Tomatoes, liquid and tomatoes separated

2

small red onion, thinly sliced

2 Tbsp

stalks celery, roughly chopped

3 Tbsp

roughly chopped mint, plus extra for garnish

1

roughly chopped parsley, plus extra for garnish

8 oz

cloves garlic, minced

4

good quality tuna or sardines, chunked (optional)