Return to Recipes
Oven-Roasted Tomatoes, Fennel and Chickpeas with Preserved Lemon and Honey
Category:
This savory and elegant dish works as a side dish and with couscous as a perfect vegan meal. Packed with flavor from Oven-Roasted Heirloom Tomatoes, the recipe can be made ahead and served warm or at room temperature. Catherine Louise Schubert based this upon a recipe in "How to Eat a Peach" by Diana Henry.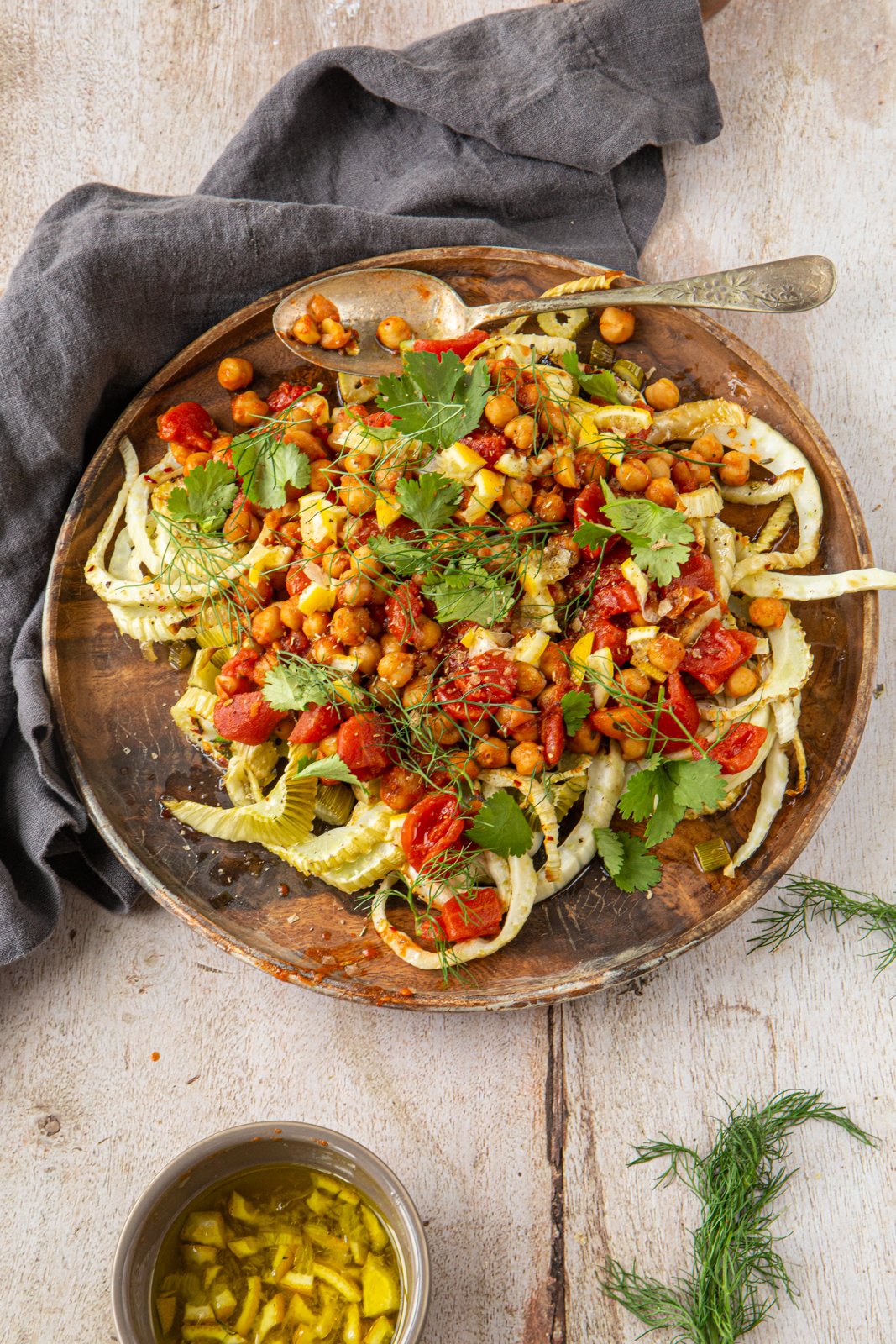 Step 1

Pre-heat the oven to 375°

Step 2

Prepare fennel: Quarter the fennel bulbs reserving the fronds. Toss with lemon juice, olive oil, garlic, fennel seeds, crushed red pepper, salt and pepper. Roast on a sheet pan covered in foil for 25 minutes; remove foil and roast for 5 more minutes.

Step 3

Prepare tomatoes: gently warm Oven-Roasted Tomatoes in a small pan with harissa over medium-low heat.

Step 4

Prepare the dressing: Dice the rind of the preserved lemon. Whisk together white wine vinegar, preserved lemon juice, honey, and extra virgin olive oil. Add the cilantro and diced lemon rind.

Step 5

Drain and rinse chickpeas.

Step 6

Arrange the roasted fennel on a platter, top with chickpeas and warmed tomato sauce. Spoon dressing over the top and dress with reserved fennel fronds.
Ingredient list
1

16 oz. jar Tomato Bliss Oven Roasted Tomatoes

2

bulbs of fennel, fronds reserved and chopped

1/2

teaspoon crushed fennel seeds

salt and pepper

pinch

crushed red pepper flakes

1

tin (15.5 oz.) chickpeas

2

small preserved lemons, plus juice from the jar to taste