Return to Recipes
Pork Chops with Bliss Bourbon Sauce
Category:
dinner
orange and blush heirloom tomatoes
Oven-Roasted Heirloom Tomatoes
Savor Orange and Blush tomatoes combined with the vanilla, oak and mild spice of bourbon. The 
depth of flavor is subtle and complex, but not overpowering. 

Thank you Will Noonan for this hearty and inspiring recipe.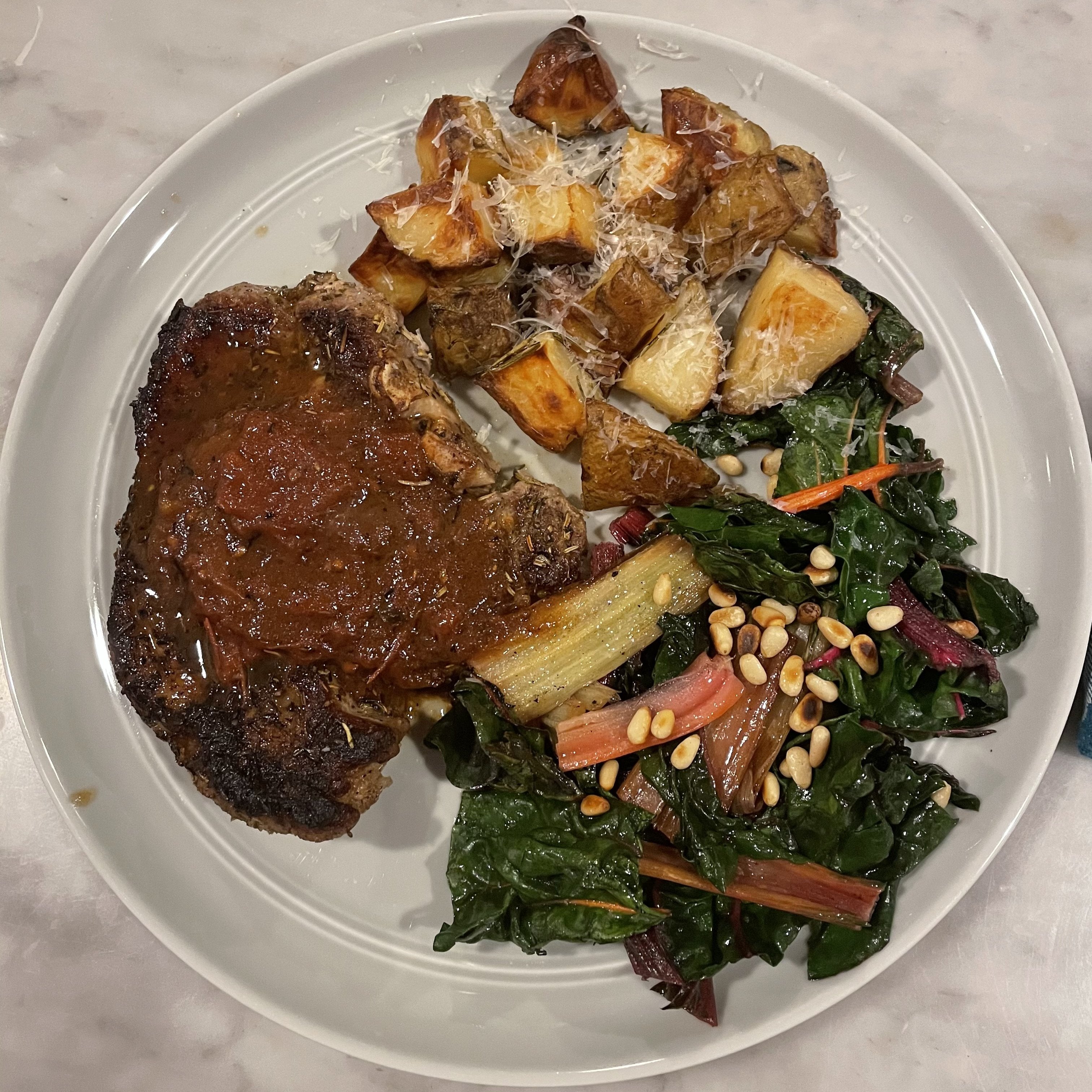 Step 1

Pat dry pork chops and season throughly with salt and pepper and spice rub, making sure to generously coat each side of the meat.

Step 2

Slice, then quarter onion. Cook in mix of butter and olive oil until brown and caramelized. Salt to taste. Set aside.

Step 3

Sear each side 5 minutes in a very hot skillet until throughly brown. Turn off heat and let sit covered until desired doneness is reached. Do not over cook or the chops will become dry.

Step 4

Remove the chops from the pan and and let rest while you make the pan sauce.

Step 5

Return skillet to high heat and melt butter. Add bourbon to deglaze pan. Use care with open flame as alcohol is FLAMMABLE. Stir to incorporate butter, bourbon and pork juices remaining in pan.

Step 6

Reduce heat and add roasted tomatoes as well as any juices released by the chops while they were resting. Stir again to incorporate.




Add pork chops to plate and pour Tomato Bliss Bourbon Sauce over meat. Garnish with grilled onions. Delicious with parmesan potatoes and greens of your choosing.
Ingredient list
1 cup

Tomato Bliss Oven-Roasted Orange and Blush Tomatoes

2 Tbsp.

spice rub mix of any combination dried oregano, basil, thyme, tarragon, and rosemary