Return to Recipes
Quick Weeknight Vegetarian Bolognese
Category:
heather johnston
low salt
Oven-Roasted Heirloom Tomatoes
quick and easy
roasted heirloom tomatoes
vegetarian
Thanks to Heather Johnston, no flavor was sacrificed in this recipe which gets dinner on the table in no time. Plus you'll have leftovers for lunch.
Oven-Roasted Heirloom Tomatoes give this sauce incredible sweet flavor add them at the end, so as not to cook all that yumminess away.
NOTE: Sauce can be made in advance to keep in the refrigerator, or can be frozen for up to 3 months. You can substitute ground beef, chicken, or turkey for the Quorn crumbles. Or, try substituting spaghetti squash for the actual spaghetti.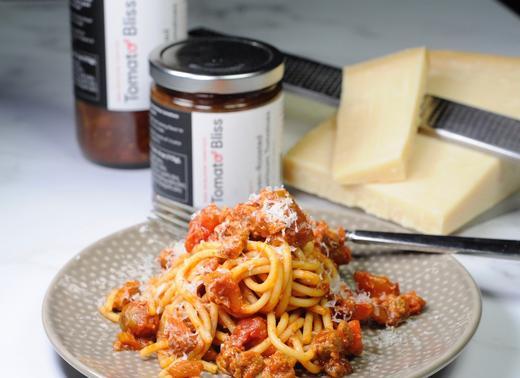 Step 1

Put Oven-Roasted Heirloom Roasted Tomatoes into a strainer over a bowl, to catch the drained liquid; set aside.

Step 2

Heat 2 Tbsp. liquid from Roasted Tomatoes in a heavy bottom pot, and add the mirepoix. Cook over medium-high heat until onions start to brown, about 10 min.

Step 3

Turn heat down to medium-low and add Quorn crumbles (frozen) and garlic; stir two to three minutes.

Step 4

Add bay leaves, crushed tomatoes, stock, tomato paste, and reserved liquid from Oven-Roasted Heirloom Tomatoes and bring to boil.

Step 5

Turn heat down to simmer for 30 minutes, stirring occasionally.

Step 6

Add salt, milk, and Oven-Roasted Heirloom Tomatoes and cook for 10 minutes.

Step 7

Remove bay leaves, stir in spaghetti and parsley, and serve with shaved parmesan on top.
Ingredient list
1

16 oz. jar Oven-Roasted Heirloom Tomatoes

10

oz. bag frozen mirepoix (diced onion, celery, carrot)

1

garlic cloves, chopped finely

12

oz. bag Quorn Meatless Grounds

28

oz. can crushed tomatoes

1

cup low or no-salt vegetarian stock

1

handful chopped parsley

1

lb. spaghetti or other shape pasta

1

handful shaved parmesan