Return to Recipes
Heirloom Tomato Pie Recipe
Category:
When Crate and Barrel's people got in touch with our people, we were thrilled to help them showcase three recipes on their Wednesday IGLive segment. Laura Scherb, uber-talented photographer, recipe creator, and Tomato Bliss Chicago Creative in Residence, shared her grandmother's signature dish, Tomato Pie! We are thrilled to now share it with our Tomato Bliss family below.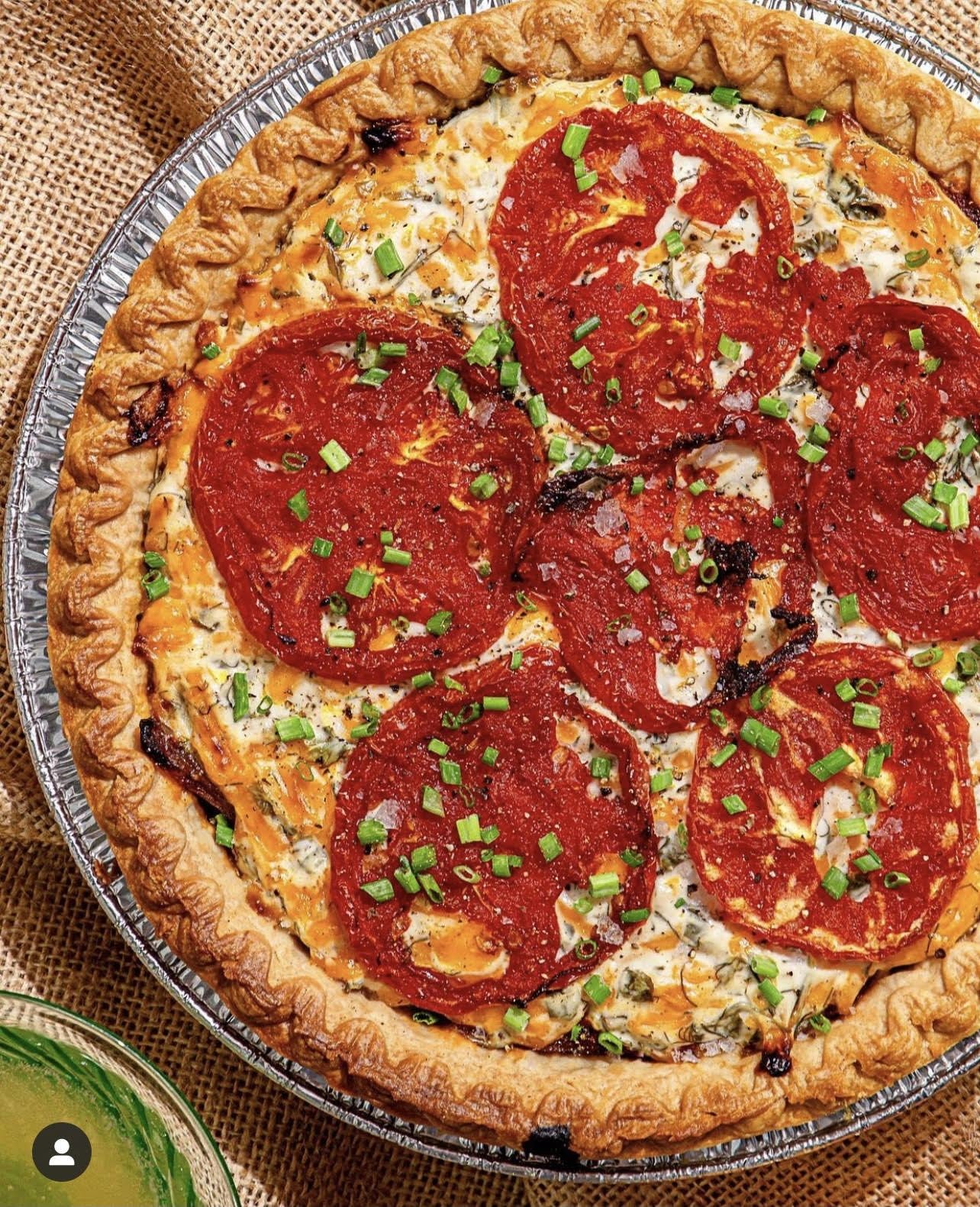 Step 1

Preheat the oven to 400. Blind bake the frozen crust for 30 minutes, poking with a fork to ensure even cooking.

STEP 2

Lay the sliced heirloom tomato on a sheet tray and sprinkle with salt. Bake with pie crust for 15-20 minutes, until dehydrated but not burned. Set aside.

STEP 3

In a small saucepan, heat the olive oil and saute the onion until slightly browned, about 10 minutes. Stir in Tomato Bliss Roasted Heirloom Tomatoes, and deglaze the pan. Cook for about 5-10 minutes, until most of the moisture is cooked off. Set tomato mixture aside to cool.

STEP 4

Make the filling: mix the Greek yogurt, herbs, lemon juice, mayonnaise, and cheddar cheese together.

STEP 5

When the pie crust is blind-baked, spread the tomato mixture on the bottom. Top with yogurt mixture, and spread evenly over the top.

STEP 6

Top with heirloom tomato slices, then lower oven to 375 and bake pie for 30 minutes, until just browned.

STEP 7

Garnish with chives and let cool slightly before serving.
Ingredient list
1

whole wheat pie crust, frozen

1

heirloom tomato, thinly sliced

1

cup of Tomato Bliss Roasted Heirloom Tomatoes

1

1/2 cups of Greek yogurt

1/2

cup of basil, chopped finely

1/2

cup of dill, chopped finely

1

cup of cheddar cheese, shredded chives, finely chopped, for garnish