Return to Recipes
Vegan Chili
Category:
Clarified Tomato Broth
Oven-Roasted Heirloom Tomatoes
Roasted Tomato Salsa Verde
Vegetarian
Simply stir and simmer onions, garlic, peppers and beans with Tomato Bliss pantry staples Roasted Heirloom Tomatoes, Salsa Verde and Tomato Soup for superb vegetarian chili. Enough for ten or a week of scrumptious lunches.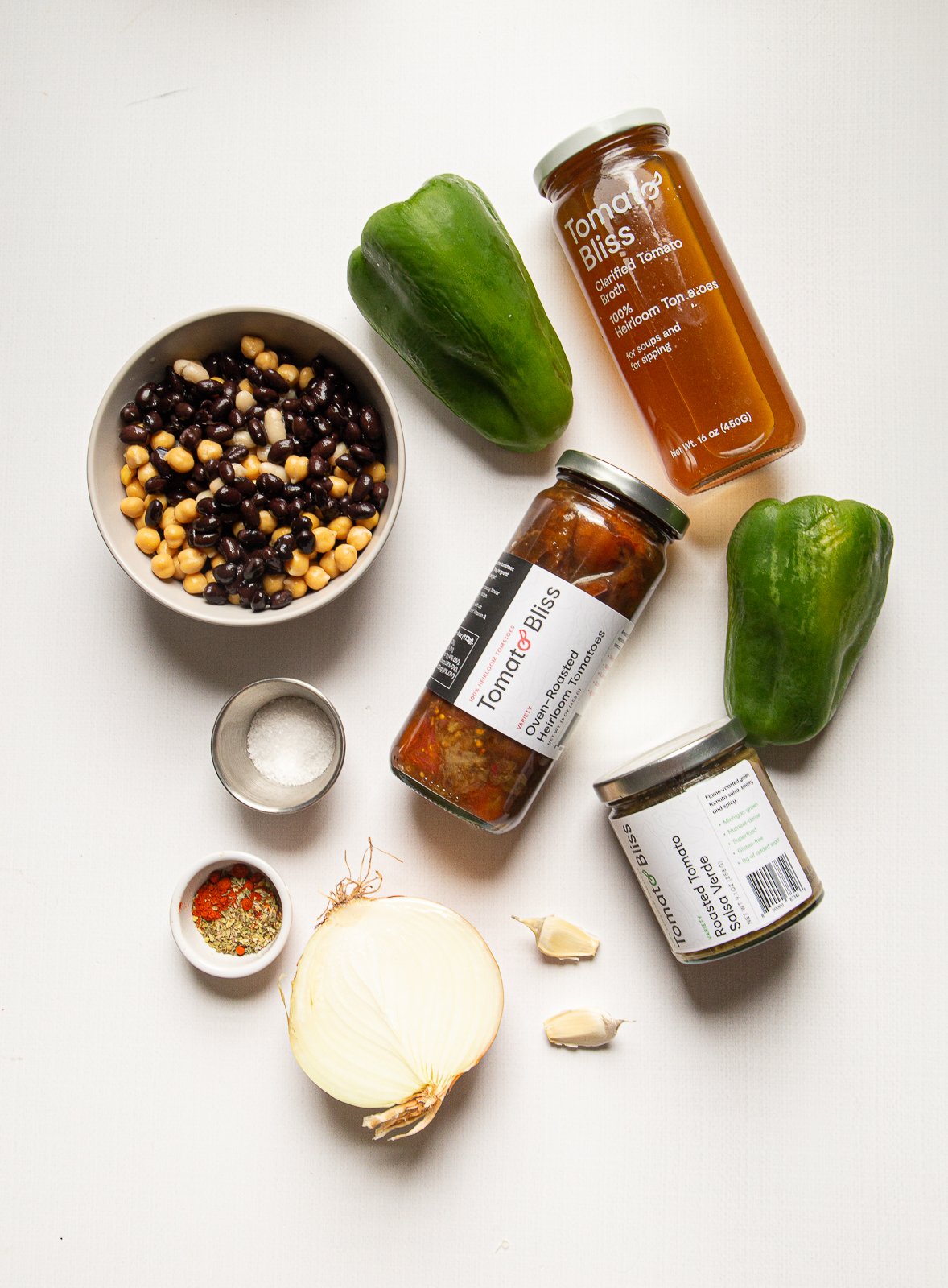 Step 1

Over medium low heat, sauté garlic, onion and peppers in 1/4 cup of liquid from Roasted Tomatoes until tender. Add basil or oregano and chili powder and sauté for one more minute.

Step 2

Add Roasted Heirloom Tomatoes, Tomato Soup or Clarified Tomato Broth and Roasted Heirloom Tomato Salsa Verde and bring to a simmer. Add cooked beans and bring back to a simmer. Reduce heat and simmer for 45 minutes.

Step 3

Add parsley and serve.
Ingredient list
1

15 oz. can garbanzo beans, drained and rinsed

1

15 oz. can navy beans, drained and rinsed

1

15 oz. can black beans, drained and rinsed

1

15 oz. can adzuki beans, drained and rinsed

1

large yellow or red onion, chopped

2

red or yellow peppers, chopped

1

tsp. dried basil or oregano

2

16 oz. jars Roasted Heirloom Tomatoes

2

16 oz. jars Tomato Soup or Broth

1

9.1 oz. jar Salsa Verde

2

Tbsp. chopped fresh parsley